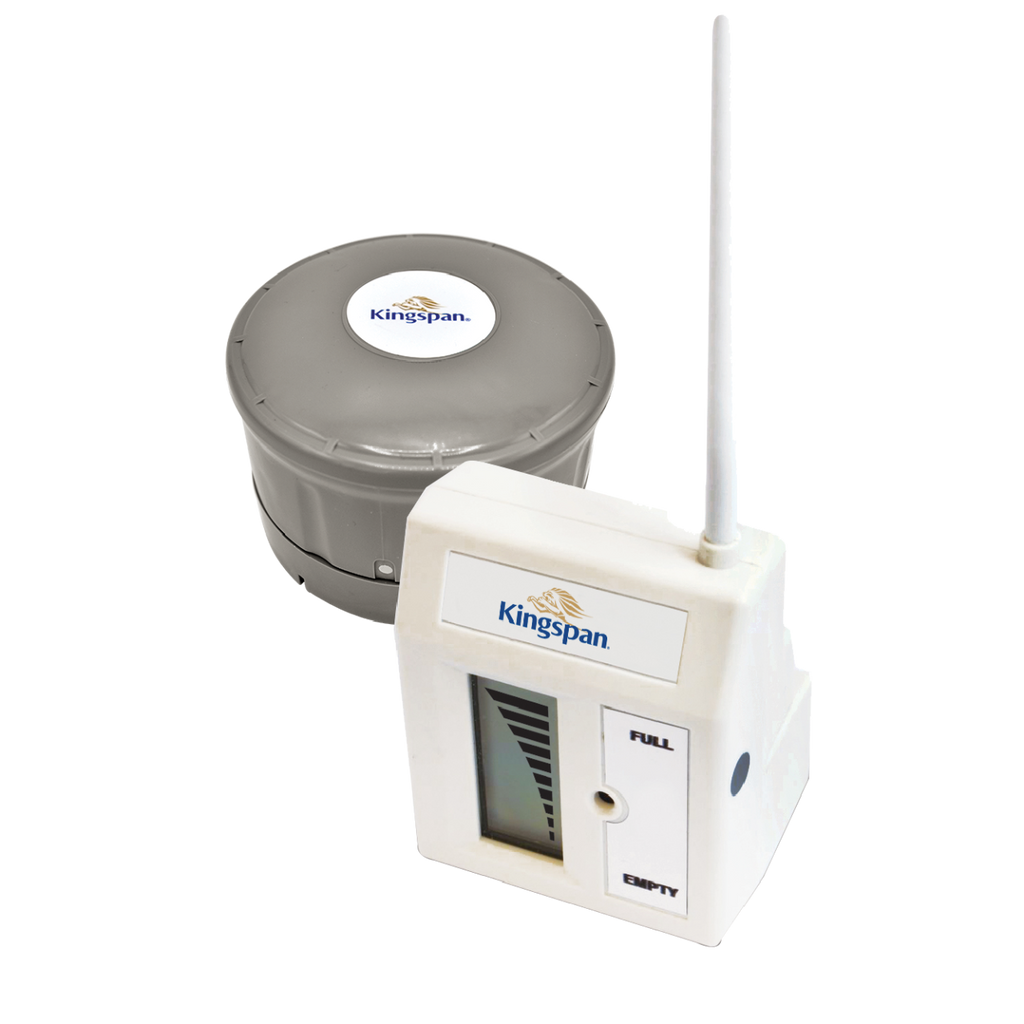 Watchman Sonic Advanced (Oil Tank Gauge/Alarm)
---
WATCHMAN SONIC ADVANCED
The Kingspan Smart Monitoring Watchman Sonic Advanced is a electronic measuring oil tank gauge which monitors how much oil there is left in your oil tank and sets off an alarm in your home in the event of a sudden drop of oil levels. This helps you to ensure that you never run out of oil and are alerted if there is an attempt at theft of your oil.
The Kingspan Watchman Sonic Advanced uses a transmitter on the top of the tank and ultrasonic level measurement techniques to measure the level of oil in a tank continually.
Features and benefits
Quick and easy to install
Suitable for steel or plastic tanks
200 metre transmitter to receiver range
Measures tanks up to 3 metres in height
Audible alarm when oil levels run out
Sudden Drop Alarm (ON/OFF)
Waveguide mode (ON/OFF)
Unique serial number
How It Works
The transmitter sits on top of the tank and using ultrasonic level measurement techniques, constantly measures the level of oil in the tank.
It then transmits that information to the receiver which is plugged into an electric wall socket, located in a convenient place within the house.
The height of the liquid is displayed on a LCD screen on the receiver. The householder can monitor the level of oil in their tank from inside their home.
When the level of oil in the tank gets below 10%, the fuel dispensing pump symbol appears, indicating to the householder that it is time to order some more oil.
Specifications
Tank Depth measurement: Minimum depth: 0.5m, Maximum depth: 3m
Display: Bar graph level display, 10% tank height per bar. Early warning indication (flashing tank fill) at a predetermined height above tank bottom. Tank empty warning flashes red LED at a predetermined height from tank bottom.
Max Communication distance: 200m in normal "line of sight" conditions. The effective range of this product can be influenced by external sources that may reduce the range of transmitter or sensitivity of the receiver.
Power supply: Receiver: 230V, 50-60HZ +/- 10%, Transmitter: 3-voltlithium cell
Battery Life: Up to 3 years (dependent on tank height and fills, drain rates)
Wireless Com: 433mHz FM transmission, EN 300-200
Dimensions: Receiver: 50 x55 x35mm (not including aerial). Transmitter: 70 x 93mm
Max and Min operating temp (transmitter): Operating temp: range -10 degC to + 50 degC, operating humidity: 0-100%. Sealed airtight unit made from PP3317 UV stabilized.
Hole size for tank fitting: 32mm / 2"BSP external thread adaptor
---
Share this Product
---
More from this collection